Sign up for weekly email updates.
Back to list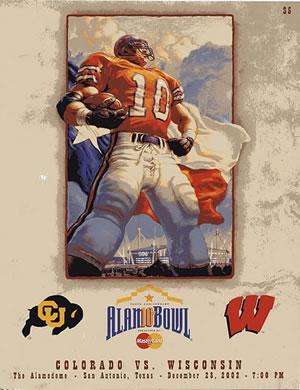 Wisconsin 31 vs Colorado 28
Wisconsin wins in overtime over #14 Colorado
Attendance: 50690
MVPs: Brooks Bollinger, Quarterback, Wisconsin (Offense) Jeff Mack, Linebacker, Wisconsin (Defense)
Awards: Fred Jacoby Sportsmanship Award: Zac Colvin, Quarterback, Colorado
Coaches: Barry Alvarez (Wisconsin) Gary Barnett (Colorado)
Highlights: Wisconsin quarterback Brooks Bollinger leads the Badgers on a last minute scoring drive to tie the game converting two fourth-and-longs.
TV Rating: 4.4
TV Coverage: ESPN
Date: Saturday, December 28, 2002
The 2002 Alamo Bowl presented by MasterCard received a 4.4 television rating, the highest of the ESPN's 20 bowl games and 124 regular season college football games last season. The 4.4 rating is a 16 percent increase over the 2000 and 2001 Alamo Bowls. The telecast reached over 3.8 million homes, which translates into over six million viewers given ESPN's subscriber base and a 1.6 viewers-per-viewing household factor.
This year's game was televised during prime time on Saturday, December 28 and featured a 31-28 Wisconsin overtime win over Colorado. Wisconsin senior quarterback Brooks Bollinger led the Badgers on a last minute scoring drive highlighted by two fourth down conversions (fourth-and-19 and fourth-and-10) to send the game to the first overtime in Alamo Bowl history.
After Colorado didn't score on their first possession, Badger kicker Mike Allen connected on a 37-yard field goal for the win.
"We thought a Colorado-Wisconsin match-up would be a competitive game that would appeal to a national television audience," said Derrick Fox, Executive Director of the Alamo Bowl presented by MasterCard. "This year's Alamo Bowl presented by MasterCard adds to our track record of exciting games as three of the last five Alamo Bowls have been decided in the final minute. The game also provided tremendous exposure to our presenting sponsor MasterCard, our game sponsors and the city of San Antonio."
The 4.4 mark is the fourth highest rating in the Alamo Bowl's ten year history trailing only the 6.3 rating in 1995 (Texas A&M's 22-20 victory over Michigan), the 5.2 rating in 1999 (Penn State's 24-0 win against Texas A&M) and the 4.9 rating in 1998 (Purdue's 37-34 win over Kansas State). The previous two Alamo Bowls (Nebraska's 66-17 win over Northwestern in 2000 and Iowa's last second 19-16 win over Texas Tech in 2001) both received 3.8 ratings.
Since the start of the bowl's Big Ten-Big 12 Conference affiliation in 1995, the Alamo Bowl has averaged a 4.52 rating, the second highest mark of the 19 bowls that ESPN televises over that time period. With this year's 4.4 rating, the 2002 Alamo Bowl presented by MasterCard could finish as ESPN's top rated bowl game of the season.
This year was the second time the Alamo Bowl selected a team that lost in the Big 12 Championship. Both times the Big 12 team also lost in the Alamo Bowl to an unranked Big Ten opponent in heart-breaking fashion.
Prior to Colorado falling to Wisconsin this year, Purdue quarterback Drew Brees threw a 24 yard touchdown with :30 in the game to upset Kansas State 37-34 in 1998. The Wildcats came into the game ranked #4 in the nation with a 11-1 record after losing to Texas A&M in the Big 12 Championship.
The Big Ten has won six of the last seven Alamo Bowls including the last two as underdogs. Overall, the Big Ten is 6-3 and the Big 12 is 2-7.