Sign up for weekly email updates.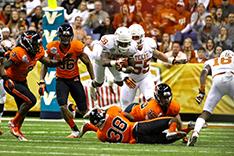 College football fans are among the most passionate and loyal sports fans. Did you know that college football ranks third in fan intensity behind NFL and NASCAR and that 60 percent of persons over 12 years of age identify themselves as a college football fan according to the ESPN Sports Poll.
While a fan may switch allegiances and adopt their local pro team when they change towns, the affinity they feel for their alma mater runs deep and a bowl sponsorship allows a company to tap into this passion.
Supporters of the Valero Alamo Bowl are similarly loyal as 91 percent of the bowl's option holders and 89 percent of the bowl's sponsors renew each year.
Moreover, they understand how important the Valero Alamo Bowl is to San Antonio and want to support companies who are helping grow the bowl.
79 percent of local ticket buyers agreed with the statement "sponsorships benefit the bowl"
61 percent said they would consider switching to companies who support the bowl
While college students attend bowl games, it's college graduates and alumni who are there in large numbers as you can see from the following demographics of Valero Alamo Bowl attendees.
While demographic information gives a good idea of who attends the bowl game, it's important to note:
1) Bowl Week is San Antonio's largest annual convention with over 30,000 out-of-town visitors. However, there are another 30,000 local supporters who loyally support the bowl, so whether you want to reach tourists or locals both goals can be accomplished.
2) Different bowl events can be used to reach other audiences. While the game is split half local/half out of-town, most of the events outside Bowl Week are 90+ percent local. Additionally, events like the Fan Zone have higher concentrations of women and families, while the 1,500 participants in the Million Dollar Shootout are 94 percent male.
The bottom line is that Valero Alamo Bowl fans are loyal and support our sponsors, so let the bowl help match you up with the events that best reach the audience you are seeking.