Sign up for weekly email updates.
Sponsors /
sponsor opportunities
Overview
So whether the goal is to increase brand loyalty, create awareness, drive traffic or display products, let's discuss ways a partnership with the Valero Alamo Bowl will benefit you.
General information on our advertising, event sponsorships, hospitality and signage opportunities are below, and read what our sponsors are saying to the right.
Events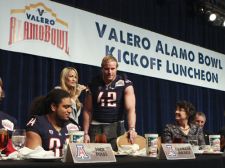 The Valero Alamo Bowl is in the business of producing fun, high-quality events throughout the year. Whether you want to market to 65 or 65,000 the bowl can direct you to the events that best meet your objectives.
Some of the exciting events include the Million Dollar Shootout, Kickoff Luncheon and Golf Classic. The Valero Alamo Bowl Kickoff Luncheon is one of the premier business luncheons in San Antonio. The event annully draws over 1,500 fans who get to experience all the excitement, pageantry and revelry that surrounds the big game. The Valero Alamo Bowl Golf Classic is a favorite among San Antonio football fans and business executives. The head coaches from the selected teams will headline a day of fun, food and prizes at The Club at Sonterra for over 200 golfers.
Check out our Community Festival of Events Calendar highlighting all the events that surround the Valero Alamo Bowl for many great sponsorship opportunities.
Hospitality
Bowl sponsors receive priority seating and networking at all the bowl events. Popular hospitality packages are the Corporate Memberships and game suites.
Please contact Rick Hill at rickh@alamobowl.com for more information on 2012 pricing and benefits.
Signage
The signage placements range from on-site banners to field and stadium signage viewable during the ESPN broadcast that is seen by an average of 6.5 million viewers each year.
Outside of signage at all of our ancillary events, the Alamodome consists of two (2) 24' x 28' Video Walls, as well as four (4) 3' x 90' LED Ribbon boards located at Club Level.
Associate and title sponsors of events receive prominent signage opportunities to promote their support of the bowl.
Advertising
The Valero Alamo Bowl has an assortment of advertising outlets that can be utilized by sponsors to activate their sponsorship package.
Fan Guide, Game Program, Radio Promotions, Bowl Insider Newletter and Social Media Campaigns are the most popular by our current sponsors.
What Our Sponsors
Are Saying
With the Bowl's propensity to over deliver, please read what our partners are saying:
"Valero has been a long-time supporter of the Alamo Bowl, and we have a long and proud history of stepping up in support of big-name sporting events here in San Antonio. Now that we've become the title sponsor of this great event, we couldn't be happier."
Mike Ciskowski, Executive Vice President and CFO, Valero Energy Corporation
"The bowl is good for San Antonio as the positive economic effects of the game and their month-long festival of events are felt community-wide. The Valero Alamo Bowl is also good for our company as it gives us the perfect vehicle to treat our top clients and vendors to first-class hospitality."
Charles Ebrom, Zachry Group